Chlorine Analyzers For Residual Chlorine Monitoring – HaloSense
Free Chlorine and Total Chlorine analyzers and controllers measure the free residual chlorine (OCl– and HOCl), and the total residual chlorine (free chlorine + combined chloramines). The Pi residual chlorine analyzers are amperometric membraned sensors that bring a number of advantages over traditional colorimetric analyzers, in that they are cheaper to own with no reagants and very little maintenance (once per year).
They are extremely stable and work almost anywhere you have a need to measure residual chlorine from drinking water, to pools and spas, produce washing, cooling tower disinfection and disinfection in paper and pulp industries.
To find out more about AquaSense, get in touch with one of our technical experts today.
Residual Chlorine Monitor 3D View
Key Benefits
Low purchase cost
Low cost of ownership
Reduced pH dependency (largely pH independent)
Stable and reliable
Bufferless
Reagentless
Many companies want to measure free chlorine residuals without the need for chemical buffers and reagants traditionally associated with measuring chlorine in water. Acetate and phosphate buffers are expensive and environmentally unfriendly. Buffer delivery systems are maintenance intensive and have fairly costly consumables and there are health and safety considerations in the handling of the acids and high disposal costs if the acid treated water is unable to be fed back into the water supply.
That leaves colorimetric analyzers that mix chemicals with the water which changes color and the resultant color is related to the residual chlorine. Whilst still popular issues with reagant cost, optical fouling and the length of time between reporting results means that these analyzers are increasingly out of favor.
Most amperometric cells and polarographic probes only respond to hypochlorous acid, (HOCl). HOCl dissociates into hypochlorite (OCl
–
) in a pH dependent manner. This is why most chlorine monitors need acid buffers in most applications. The typical pH of water measured on a water treatment works may range from 7 to 9.2. Chemical buffering reduces the pH to between 5 and 6 and ensures that the majority of the residual chlorine is present as HOCl.
The HaloSense Free Chlorine Sensor from Pi measures all the HOCl and the majority of the OCl
–
 present. This results in a vastly reduced pH effect and means that most chlorine monitoring applications require no buffer and no pH compensation at all.
Applications
Options
Principle of Operation
"We've been using these analyzers since 2008. They're easy to use and very stable. Calibration and maintenance is quick and simple."
"Over the last few years we've purchased chlorine and turbidity analyzers from Chemtrac and with routine calibration the probes measure the chlorine and turbidity without any issue. We are very happy with this product and would highly recommend them."
"The support from Pi and its partners is superb. They go above and beyond to ensure that, not only is their equipment perfect but that the process is working great too. Five Stars!"
If you have any questions or would like to find out more about any aspect of residual chlorine monitoring get in touch with one of our technical experts.
Focus Ons are a series of short articles distributed by email providing technical information regarding instrumentation, process measurement in potable, waste, process and pool waters. If you would like to join the mailing list, please 
contact us.
Online Chlorine Analyzer Downloads
Need help deciding what you need? Fill in the form and we will call you.
The latest company & industry news from Pi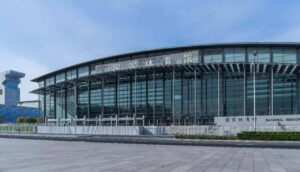 Pi's representatives in China have completed installation of two recirculating cooling water systems at the China National Indoor Stadium, one of the venues hosting the